If modern secular, liberal democracy failed to stick in Turkey, it's not going to stick, let alone develop, anywhere else in the Muslim world.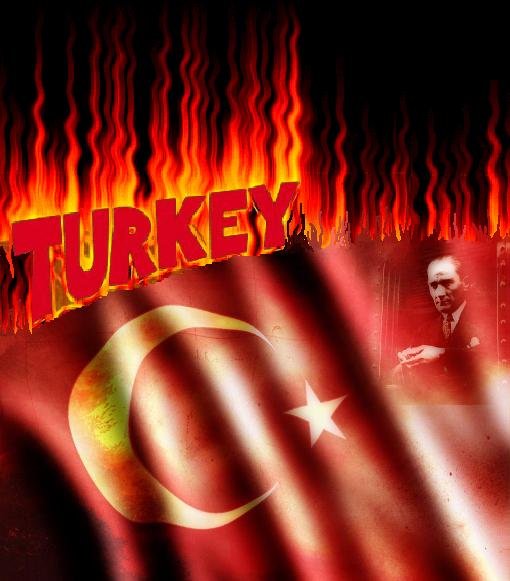 Turkey: Erdogan celebrates win over anti-Islamic coups, 15th anniversary speech, yesterday's victims in power today
28 FEBRUARY, 17:03
(ANSAmed) – ANKARA, FEBRUARY 28 – With a speech in front of a crowd of cheering MPs, Turkish Premier Recep Tayyip Erdogan in his own way celebrated an anniversary involving a recent historical event in Turkey: the anti-Islamic military coup on 28 February 1997. He did so while stressing his desire to remain at the helm in the long-term, despite a recent intestinal surgery and an internally-divided social democratic opposition.
Broadcast live on television, his speech today in front of the parliamentary group of his near-absolute majority party (AKP) was highly anticipated because it was pronounced after an absence from the capital lasting over two weeks, as he was recovering and under observation after a second round of surgery in the last three months to remove benign intestinal polyps. "This heart will continue to beat for my citizens", " this path will definitely continue", assured the central figure of Turkey's political world, who had already denied having cancer.
After reassuring the crowd, which paid tribute to him with stadium chants such as "Turkey is proud of you", Erdogan reminisced about the so-called "post-modern" coup in which the Army – guardians of Turkey's secular state on the order of the founder of the Turkish state, Kemal Ataturk – forced the first pro-Islamic government in the country, led by Necmettin Erbakan, to step down 15 years ago.
"We are the victims of February 28", of the coup that went "against the will of the people", the premier underlined, stating that "a government that was installed through elections was overturned". "History will not pardon the architects of the February 28 coup even after 1000 years", said Erdogan, echoing an historic statement made by the head of the perpetrators of the coup, Huseyin Kivrikoglu, and making a veiled reference to the ongoing investigations into the liability of the generals.