Al-Gore seen crestfallen.
Better cover up folks, the weather is not responding to cap & trade and other socialist utopian schemes. Sun activity is the guilty culprit, and the more people wizen up to that fact the better.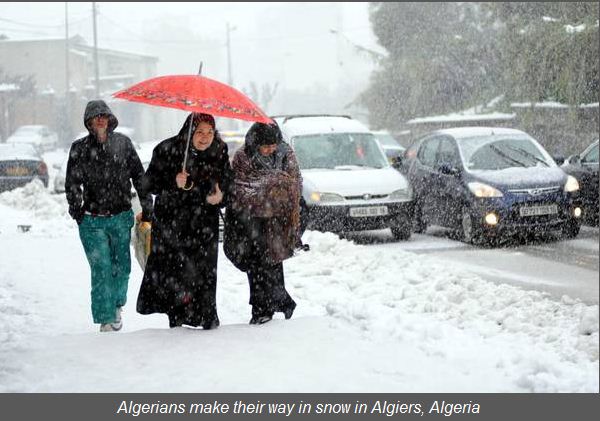 Weather: Algeria, 80 killed by cold, mayors against gvt
Several centres isolated, out of food and gas
(ANSAmed) – TUNIS – The death toll of victims of cold and snow in many regions of Algeria gets worse and worse and so does the dispute between the local communities and the government, which was accused of being extremely slow in adopting emergency measures. The latest news report that there are already approximately 80 victims; 30 of them were killed in car accidents caused by icy roads.
Other causes of death include carbon monoxide leaks caused by either faulty devices or the fact that because of the lack of butane gas for heating, many families make fires in the fire escape and shut all windows and doors, preventing air circulation and turning their houses into death traps.
Several centres are still isolated and even if the Army's vehicles or volunteers succeed in digging a passage in snow, no food or fuel actually gets to town. In some municipalities, the furious residents have occupied the town hall to protest. Daily newspaper el Watan, usually very critical of the government, used the word "martyrdom" to describe the suffering of Algeria's people.