They'll favor tax hikes over spending, just wait.
It really is sad to see supposedly conservative parties fighting over how best to keep a dying carcass of the welfare state still pulsating, instead of just letting it go. These Conservatives In Name Only (CINOS) just have nothing to offer the people in the way of an alternative, they've just co-opted the Left's principles, with some limited fiscal responsibility…but that's it.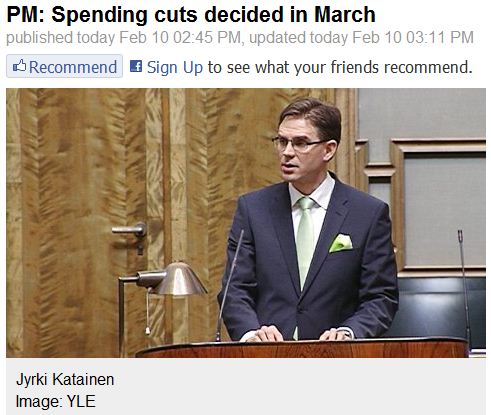 YLE: Prime Minister Jyrki Katainen says his cabinet will decide on spending cuts and tax hikes next month. Addressing Parliament on Friday, the premier said any adjustments will be made in the 2013-2015 period and that the overall economic climate would be taken into account.
Katainen defended municipal mergers and plans to shut down defence bases, both announced earlier this week. The PM came under fire from the opposition, with Finns Party group chair Pirkko Ruohonen-Lerner saying that the gap was widening between the well-to-do and those falling through the cracks of society.
Centre party chair Kimmo Tiilikainen meanwhile called the cabinet's vision shortsighted and said forced centralisation was a "life-killer."