Orwellian bullsh*t to say the least.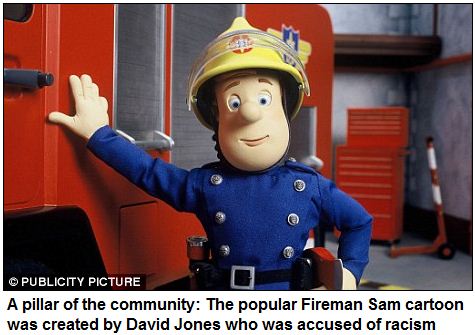 Ever since the politically correct policy of making 'giving offense' a crime has been made acceptable, the British state has become the sole arbiter of what is 'correct speech' and what is not. This is a violation of the most sacred and fundamental of all rights, the freedom of speech. The freedom to speak one's mind (as long as it isn't slanderous, something that causes financial harm/assault on one's liberty) is crucial for the health of a free society, saying something that people might find offensive is/should be protected speech.
We find ourselves going back to the days of the evil Soviet Union, and other despotic regimes, where criticizing the status quo or sacred cows, would land you in the hoosegow. Here's the money quote from the article:
He demanded that the officer should arrest him if there was a case against him. Mr Jones said: 'I was told that we now live in a different time and some things are not to be said.'

The matter was only resolved when Mr Jones agreed his remarks 'could' have been regarded as offensive. A Gatwick Airport spokesman said: 'Our security team are looking at what happened. The matter was dealt with and the passenger made  his journey.'
Do you really want these hijab'd bimbos and like ilk, dictating to you, what you can and can not say? Really? I would have told them to stuff it where the sun doesn't shine.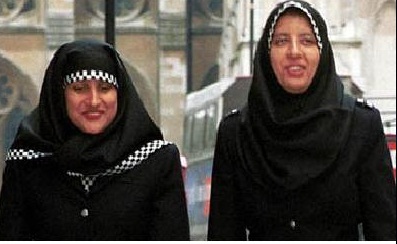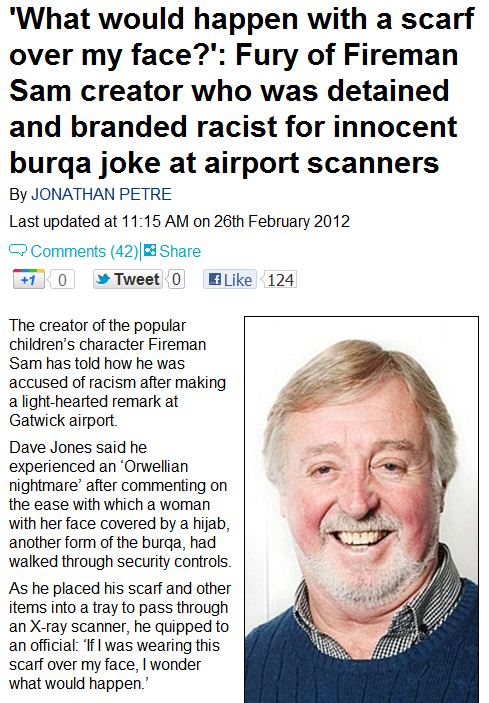 As he went through security where he hoped to meet up with his two grown-up daughters, he was confronted by a woman official who said he was being held because he had made an offensive remark.

Covered: A woman is allowed take her hijab off in a private room at UK airports

Mr Jones, a former member of the Household Cavalry and a retired fireman, said he had said nothing racist. But she took his passport and boarding pass and escorted him to another area where she questioned him.

He said: 'It was impossible to get her to listen to reason. We were then joined by a second female security guard who stated that she was Muslim and was deeply distressed by my comment.

'I again stated that I had not made a racist remark but purely an observation that we were in a maximum security situation being searched thoroughly while a woman with her face covered walked through.

'I made no reference to race or religion. I did not swear or raise my voice.'

After about 20 minutes, he asked the security guard whether he was going to be charged. She said no, but he could not leave until he apologised.

He called for a policeman but, he said, it was clear the officer was 'keeping to the politically correct code'.