Guess what folks, it is in fact terrorism, it's just that it's happening against a terrorist supporting regime. This is the mindset the West is openly talking about backing, just like they did in Libya. But unlike Gadaffi, the Assad regime has serious backers in Russia and China, as well as in Iran.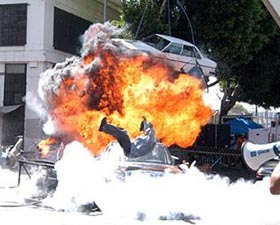 Car bombs kill 28 in Syria's Aleppo as tanks hit Homs
Twin car bombs targeting security posts in Syria's second city of Aleppo killed at least 28 people, state media said, with the rebels accusing the regime of launching the attacks as a diversion.
The explosions Friday came as tank-backed troops advanced on pockets of resistance in the besieged protest hub of Homs, and as heavy security deployments nationwide thwarted planned protests against regime ally Russia.
The powerful mid-morning blasts in the northern commercial hub also wounded 235 people, said state television, which broadcast gruesome footage.
Mangled bodies were shown in pools of blood outside rows of shattered buildings and piles of rubble strewn across a broad avenue.
State television called the bombings, the first in Aleppo since the uprising against President Bashar al-Assad's regime erupted almost a year ago, the work of "armed terrorist gangs."