An earlier meeting of the terrorist troika in bed sheets at the Mecca smooch stone.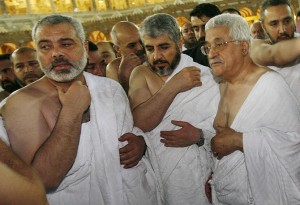 The only talk they know is from the barrel of a gun.
Hamas, Fatah blame each other for unity talks' failure
By KHALED ABU TOAMEH02/26/2012 01:58
Abbas meets Haniyeh for first time since 2007.
Hamas and Fatah traded allegations over the weekend regarding the failure of efforts to form a Palestinian unity government.
Last Thursday during a meeting in Cairo, Palestinian Authority President Mahmoud Abbas and Hamas leader Khaled Mashaal decided to postpone talks over the formation of a unity government envisaged by the recent Qatari-brokered reconciliation deal between the rival parties.
Abbas also met Hamas Prime Minister Ismail Haniyeh late on Thursday night, marking the first face-to-face conversation between the two leaders since 2007, when the Islamist group seized full control of the Gaza Strip.
Meeting at Al-Andalus Castle in the Egyptian capital, the rival Palestinian leaders discussed Fatah-Hamas reconciliation efforts, including differences of opinion that have stalled the implementation of the unity deal, the Palestinian news agency Ma'an reported on Friday.
Azzam al-Ahmed, a member of the Fatah Central Committee, said the decision to postpone unity talks had been taken at the request of the Hamas leadership.
"There is an internal dispute within Hamas over the formation of a unity government," he said. "Hamas asked for the delay and President Mahmoud Abbas, who understands the difficulties facing Hamas, agreed to postpone the talks."