Israel is the only state in the region that offers any sense of normalcy, and it's been at the forefront of fighting the jihad being waged against it for over 60 years. The Muslim Middle East is a basket case, a classic example of a failed ideology (Islam) leading each and every other state and peoples into ruin. The only thing that profits their societies, is the jihad, and the jizya paid it by the non-Muslim for one reason or the other.
H/T: Fjordman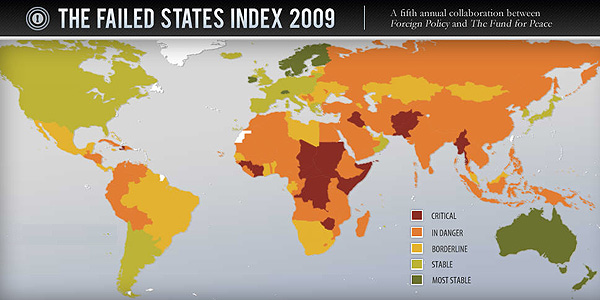 Middle East risks becoming a 'giant failed state'
With EU countries crafting plans on how to shape events in Syria, David Hirst, a noted British writer on the Middle East, has warned that the Arab uprisings are a kind of "constructive chaos" completely out of Western control. "What we're now witnessing is the greatest transformation of the region since the end of the first world war," he told EUobserver in an interview in his home in Beirut on Saturday (18 February).
"The order which the world powers imposed on the region after 1918 was an unnatural one. These uprisings have set in motion separatist forces which no one can really foresee. But it is not far-fetched to see it leading to the disappearance of whole states and the creation of new ones … The Lebanisation of the whole region is not within the bounds of impossibility," he said. "One can almost envisage a giant failed state."
'Lebanisation' is a term for the break-up of nations by reference to the history of Lebanon – a war-scarred country divided between 18 minorities.
Hirst said that if Lebanon breaks down, then the Shia Muslim majority in the south and east of the country, together with its irregular army, Hezbollah, could create its own state.
He noted that if Jordan – a country divided between Bedouin tribes, its Hashemite ruling elite and a huge bloc of Palestinian refugees – also fragments, then the Palestinians could form a new military power: "What happened when Lebanon fell apart [during its civil war in the 1980s]? Something called Hezbollah emerged. Who is say that such entities will not spring up elsewhere? Why shouldn't the Palestinians of Jordan do the same along the Israeli frontier?"
He added that post-war Iraq is not immune to the changes sweeping the region. The country's Sunni minority has sided with anti-Assad Sunnis in Syria. Its Shia majority is influenced by Shia-controlled Iran, while Iraqi Kurds in the north of the country already have de facto independence.