G-d's speed!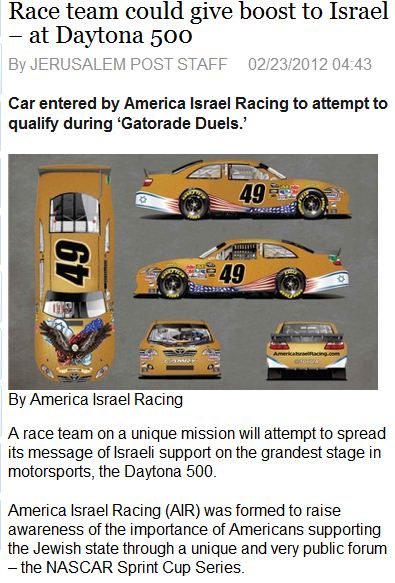 In order to earn a spot in Sunday's Daytona 500, the America Israel Racing No. 49 Toyota will have to race its way in during the Gatorade Duel 150s, which takes place on Thursday in Daytona Beach, Florida.

The car, driven by J.J. Yeley, will participate in the second duel. Both races will be televised by SPEED.

"This is a critical time in our nation's history as it pertains to our relationship with Israel," said Rich Shirey, cofounder of AIR.

"As the only true democracy in the Middle East, we feel it is critical that the United States reaffirms its commitment to stand beside Israel. By fielding a car in the most-watched race of the year, we hope to show Israel just how many Americans feel the same way."

To help achieve its goals, AIR teamed with NASCAR veteran Jay Robinson of Robinson-Blakeney Racing to attempt to place a car in this year's Daytona field.