No doubt the Israelis are checking the water lines of the ships, to see just how empty they've become since docking in Syria.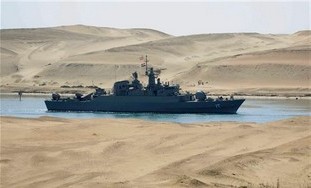 Iranian navy ships return from Syria through Suez
CAIRO | Tue Feb 21, 2012 3:02am EST
(al-Reuters) – Two Iranian naval ships returned from Syria through the Suez Canal Tuesday, a Suez Canal source said.
The ships entered the canal from the Mediterranean Sea early in the morning, heading south toward the Red Sea, and were expected to leave the canal Tuesday afternoon, the source said.
The ships had docked at the Syrian port of Tartous, in a show of support for Syrian President Bashar al-Assad, a regional ally of Iran.