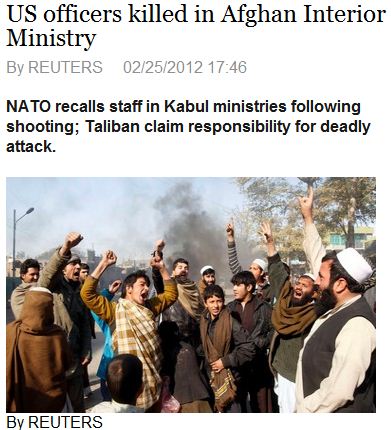 NATO's top commander in Afghanistan, General John Allen, said on Saturday he was recalling all staff working at ministries in the Afghan capital after two American officers were shot dead inside the Interior Ministry.

"For obvious force protection reasons, I have also taken immediate measures to recall all other ISAF personnel working in ministries in and around Kabul," Allen said in a statement.

Two Americans believed to be a US colonel and major were shot dead on Saturday, security sources said, while rage gripped the country for a fifth day over the burning of the Muslim holy book at a NATO base.

A spokeswoman for NATO's International Security Assistance Force (ISAF) confirmed two of their servicemen had been shot dead in central Kabul by an individual who turned his weapon on them. She declined to say if the killer was a member of the Afghan military or police.