One more nail in the coffin of the farcical pallywood fraud called the al-Durah case.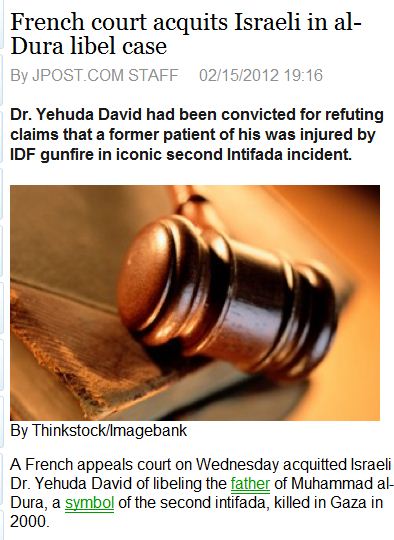 The court accepted David's appeal of an April 2011 ruling, clearing him of guilt in a lawsuit filed by Jamal al-Dura claiming he had broken doctor-patient confidentiality and slandered him in a magazine interview by claiming his injuries were not sustained in the incident in which his son died, but rather in an earlier incident.

Muhammad al-Dura, 12, became a symbol of the second intifada when he was shot to death at the Netzarim junction in Gaza on September 30, 2000 – Rosh Hashana.

Television station France 2 showed footage of al-Dura and his father seeking cover while ostensibly caught in the crossfire between Palestinian gunmen and IDF soldiers. The France 2 report controversially reported that the two had been targeted by the IDF. Muhammad al-Dura was hailed as a martyr throughout the Arab world. The accuracy of the France 2 report was widely debated in the following years.

Dr. Yehuda David said in an interview with a French Jewish publication that Jamal al-Dura, on whom he had operated at Sheba Medical Center in Tel Hashomer in 1994, had sustained a hand injury in 1992 that he now claimed came as the result of IDF fire in the September 2000 episode.