Tundra Tabloids' regular commenter, Anushirva, elucidates on Islam's lack of respect for everyone else, all the while it demands respect by the non-believer for Islam.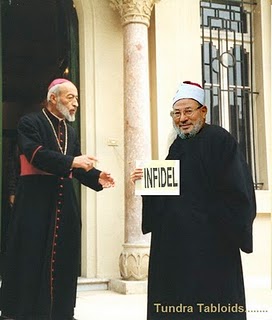 Anushirvan: In the Qur'an, Christians and Jews are often referred to as among the "People of the Book," i.e. people who have received and believed in previous revelation from God's prophets. There are verses that highlight the "commonalities" between Christians and Muslims, and other verses that warn Christians / Jews against sliding towards polytheism (shirk) in their worship of Jesus Christ. Of course, the latter are pivotal with regards to understanding the moral uniformity Islam wants to impose on all unbelievers (i.e. including Hindus, Buddhists, Jains, Zoroastrians, atheists…et al.)
"If only they [i.e. Christians] had stood fast by the Law, the Gospel, and all the revelation that was sent to them from their Lord, they would have enjoyed happiness from every side. There is from among them a party on the right course, but many of them follow a course that is evil" (5:66).
"Oh People of the Book! Commit no excesses in your religion, nor say of God anything but the truth. Christ Jesus, the son of Mary, was (no more than) a messenger of God, and His Word which He bestowed on Mary, and a spirit proceeding from Him. So believe in God and His messengers. Say not, 'Trinity.' Desist! It will be better for you, for God is One God, Glory be to Him! (Far exalted is He) above having a son. To Him belong all things in the heavens and on earth. And enough is God as a Disposer of affairs" (4:171).
"The Jews call 'Uzair a son of God, and the Christians call Christ the son of God. That is but a saying from their mouth; (in this) they but imitate what the unbelievers of old used to say. God's curse be on them; how they are deluded away from the Truth! They take their priests and their anchorites to be their lords in derogation of God, and (they take as their Lord) Christ the son of Mary. Yet they were commanded to worship but One God: there is no god but He. Praise and glory to Him! (Far is He) from having the partners they associate (with Him)" (9:30-31).
Thus, Islam in general does not acknowledge the right for any other doctrine to exist on this planet. The Quran is quite adamant about it, as the above mentioned verses demonstrate. The general gist of these verses is that Allah is the only rightful deity to have ever existed, and that his message was readily available for everyone to swallow unadulterated from the very beginning of Mankind, but "what do you know, those wretched Jews and Christians started interpreting his message to fit their own needs, corrupting and skewing the real message Allah wanted to bestow on humanity as a whole !"
That is basically the main reason why both Jews and Christians are called 'people of the book' but are not commanding equal respect in Muslim-dominated lands and why they are still intermittently subject to persecution in these countries: they are regarded as deliberate distorters of "the universal truth of Islam". Quite simple, really. Muslim logic therefore dictates that what can be applied to Jews and Christians, will necessarily have to apply to all other non-believers, as a consequence. Which is why Islam can be called an inherently discriminatory totalitarian ideology that wants to impose universal uniformity. This is the basic essence of Islam, this explains why the OIC wants to limit your free speech under the guise of protection against the defamation of 'religions'.