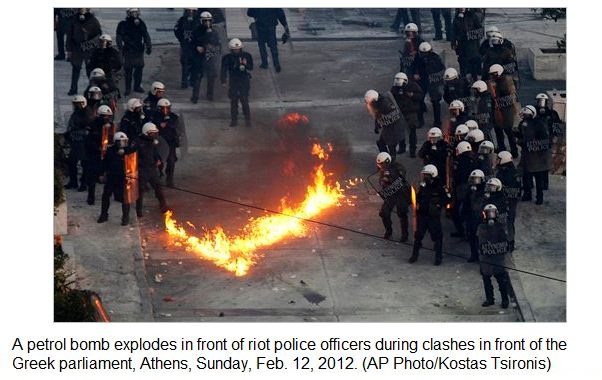 ATHENS, Greece (AP) – Rioting spread across central Athens and buildings went up in flames amid mass protests, as lawmakers prepared to vote for a crucial debt deal needed to prevent bankruptcy.

Clashes erupted across the city center after more than 100,000 protesters marched to parliament to rally against drastic austerity cuts that will force firing in the civil service and slash the minimum wage.

Thick clouds of smoke and tear gas filled the air around parliament, as hundreds of rioters staged running battles with riot police and at least five buildings were in flames late Sunday.

THIS IS A BREAKING NEWS UPDATE. Check back soon for further information. AP's earlier story is below.

ATHENS, Greece (AP)—Protesters and police fought running battles in central Athens Sunday, as Greek lawmakers debated legislation that would introduce severe austerity measures to stave off bankruptcy.

The clashes broke out around 6 p.m. local time (1600 GMT) as tens of thousands of people, responding to calls from unions to protest the measures, streamed into Syntagma Square facing Parliament.

Peaceful protesters fled to adjacent streets as a group of around 100 anarchists threw bottles, rocks, pieces of marble and firebombs at police, who responded with tear gas and stun grenades.