More coups in Muslim land.
The money quote: 
Disparately minded opposition parties eyeing position for next year's poll found common ground against Nasheed amid the constitutional crisis and protests, and had begun adopting hardline rhetoric to criticize his Islamic credentials. The country is wholly Sunni Muslim.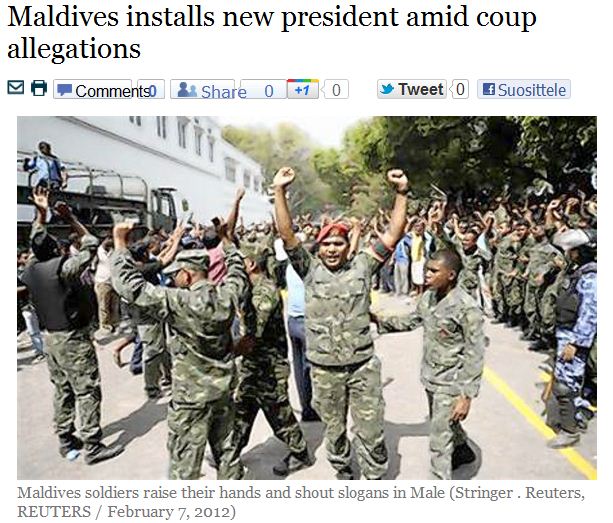 MALE (AL-Reuters) – The Maldives, one of the world's most renowned tourist destinations, installed a new president after the man credited with bringing democracy to the Indian Ocean islands resigned, apparently under military pressure following a police mutiny.
His party called it a bloodless coup.
On Wednesday, just 24 hours after police joined opposition protesters in attacking the military headquarters and seizing the state TV station, the streets of the capital island, Male, were calm as people went to work and children to school.
The political tumult, like most of everyday Maldivian life, was far from the tourists who stream to the chain of desert islands, seeking sun-and-sand paradise at luxury resorts that can command $1,000 a night.
Former President Mohamed Nasheed resigned on Tuesday and was later freed from military custody. His deputy, Mohamed Waheed Hassan Manik, was sworn in by the speaker of the People's Majlis, or parliament.
United Nations Secretary-General Ban Ki-moon said in a statement he hoped the "handover of power, which has been announced as a constitutional step to avoid further violence and instability, will lead to the peaceful resolution of the political crisis that has polarized the country."
Nasheed's order to the military to arrest a judge, whom he accused of blocking multi-million dollar corruption cases against members of former President Maumoon Abdul Gayoom's government, set off three weeks of opposition protests that peaked with Tuesday's police revolt.
"FORCED TO RESIGN"
In the end, elements of the same military marched him into his own office to order his own resignation, a close aide told Reuters in the first witness account of Nasheed's exit.
"The gates of the president's office swung open and in came these unmarked vehicles we've never seen before and Nasheed came out with around 50 soldiers around him, and senior military men we'd never seen before," said Paul Roberts, Nasheed's communications adviser.