Yeah, freedom is the first thing that comes to mind when looking at this group of 'democrats'.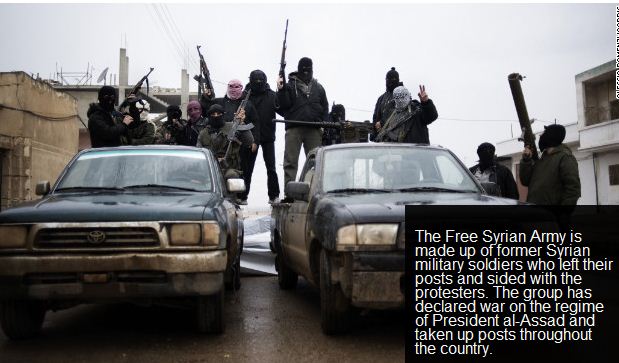 Syrian regime gets bloody nose from resistance
By Joe Sterling and Mohamed Fadel Fahmy, CNN
February 8, 2012 — Updated 1756 GMT (0156 HKT)
(CNN) — One fateful consequence of President Bashar al-Assad's ferocious crackdown on Syrian protesters is the emergence of the domestic armed resistance, the Free Syrian Army.
Forged in neighboring Turkey over the summer by military defectors, the FSA has become a major factor in the opposition to the regime.
The grass-roots armed resistance is growing, attracting civilians as well as military defectors, and has become a thorn in the side of the Syrian military and the pro-regime militias, observers say. But it needs more personnel, better resources and improved coordination to take on the Syrian security presence, they add.
"The FSA is contributing to the strain on regime forces by requiring them to operate almost continuously and engage in frequent combat," said Jeffrey White, a defense fellow at the Washington Institute for Near East Policy.
"This is in addition to the strain created by hundreds of peaceful civilian demonstrations across the country each week. The regime has been compelled to deploy larger forces and conduct more violent operations, increasing both its losses and the international visibility of its actions," he said.