While the building of mosques increases throughout Europe as well.
The mosques are our barracks, the domes our helmets, THE MINARETS ARE OUR MISSILES and the faithful our soldiers…."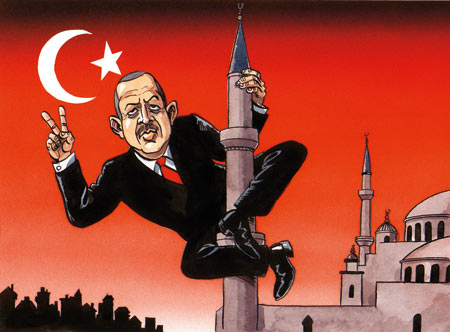 Turkish missiles over Brussels, Paris, Berlin, Rome (and others)
The Ottoman siege of Vienna may have failed in 1683. But the Turks will soon be back at the gates (well, this time, the skies) of Europe.
Much to the pride of millions of Turks, the state scientific research institute, TÜBITAK, recently reported that its scientists this year would finish an all-Turkish missile with a range of 1,500 km, and, in 2014, another with a range of 2,500 km (no typo here).
The head of TÜBITAK said the order for the missile program had come from Prime Minister Recep Tayyip Erdoğan.
I read daily Hürriyet quoting TÜBITAK's president, Professor Yücel Altınbaşak, as saying that "this is a most realistic project." And I watched an engineer from TÜBITAK's missile project group, telling state television channel TRT that "the Turkish missiles were more advanced than the U.S. or German missiles." I felt proud.
Yet I was curious and checked the world map. Put the country which claims to maintain zero problems with its neighbors and others at the epicenter of a circle with a diameter of 2,500 km, and here are some of the cities which may in the future see Turkish missiles over their skies: Athens, Amsterdam, Barcelona, Berlin, Beirut, Brussels, Geneva, Algiers, Jeddah, Cairo, Copenhagen, Kiev, London, Milan, Moscow, Paris, Rome, Stockholm, Damascus, Tehran, Tel Aviv, Tripoli, Warsaw, Vienna, Zurich and Amman.