Just like they beat up this elderly WWII vet.
NOTE: Facing multiculturalism at home was of more danger than facing enemies abroad.
UPDATE: WTD sends in the following article: Manchester Evening News–>Video: Hyde gang victim 17-year-old Daniel Stringer-Prince relives horror 'race hate crime' attack
Pictured: Swollen face of trainee chef left for dead after he was savagely beaten 'by Asian gang in hate crime attack'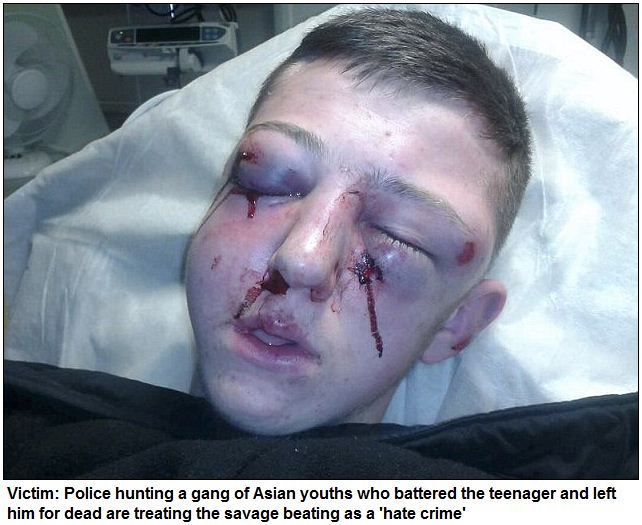 Trainee chef and best friend chased down Manchester street

Mob of eight Asians ran out of takeaway and gave chase

Police investigating attack treating it as hate crime

By KATIE SILVER
Last updated at 8:03 AM on 7th February 2012
A trainee chef was beaten by a gang of Asian youngsters who fractured his skull and left him for dead in what police are treating as a unprovoked 'hate crime'

Dan Stringer, 17, who could lose his sight, was repeatedly kicked and punched by a mob of up to eight people after he fell over as they were chasing him down the street near Manchester.
The teenager was left with a fractured skull, multiple eyesocket fractures and needs plastic surgery to mend the smashed bones in his face.

The victim and his best friend Kavan Brown, also 17, were walking down Market Street, Hyde, Saturday evening when they passed by a takeaway shop.