So to is Finland under the slimy, anti-Israel Finnish FM, Erkki "Old Scruffy"Tuomioja. These two political hacks are representative of all that is wrong with Nordic politicians today. Arrogant, utopian ignoramuses who wouldn't know their own arses from a hole in the ground, tormenting our common sense with stupid statements based on complete ignorance of the subjects they bloviate about. KGS
UPDATE: A friend reminds of Tuomioja's involvement in pushing for Pali membership into UNESCO, which counters his statements that he wasn't for any UN recognition of 'Palestine' at the UN. As a matter of fact, he and the current Finnish President, Tarja Halonen (and former pres, Ahtisaari) were vocal supporters of it.
– A blatant lie from Tuomioja, who supported Palestinian membership in UNESCO as one step towards full membership.  Unless ET is schizophrenic …?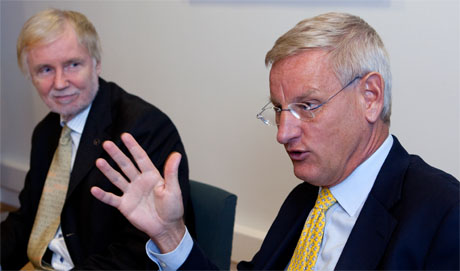 Sweden 'not ready' to recognize Palestine: Bildt
Published: 17 Jan 12 08:04 CET |
The time is not right for Sweden to recognize the Palestinian state or make any promises to upgrade the country's status in the UN, said foreign minister Carl Bildt on Monday after the Centre Party recently made a u-turn on the issue.
"Of course we would like to, but the main aim right now is to stimulate the two parties to a dialogue. That's what we are supporting," Bildt said at a press conference with his Finnish colleague Erkki Tuomija on Monday.
Both Bildt and Tuomija said that the EU had tried to dissuade the Palestinians and their president Mahmoud Abbas from seeking membership in the UN.
But Abbas went ahead anyway and now the application is being processed in the Security Council.
"This is not what we advised them to do. When and how it will be settled in the Security Council, we don't know," said Bildt.
"Both of us, in fact everyone in the EU, advised them not to go the council. We couldn't see that it would lead anywhere. And it hasn't," said Tuomija.
Tuomija said that he shared Bildt's lack of enthusiasm about what the upcoming peace talks might engender.
"But without peace talks there can be no peace. A complete Palestinian state is not possible without the end of occupation," Bildt said.
It is not known when the government will look at the Palestine question again. According to Bildt, the time will be right when there is a Palestinian state to recognize.
"I hope that will happen as soon as possible," said Bildt.