Think about it for a second. The Yazidi have been hounded and rounded up like sheep for the slaughter by the "more Islamic" groups around them in the Middle East for centuries. Yet while living in a Western country that practices equal rights and equality before the law, they hunt down their own kind for "un-Islamic behavior". Doesn't look like that integration or multiculturalism is working in Germany, now does it? KGS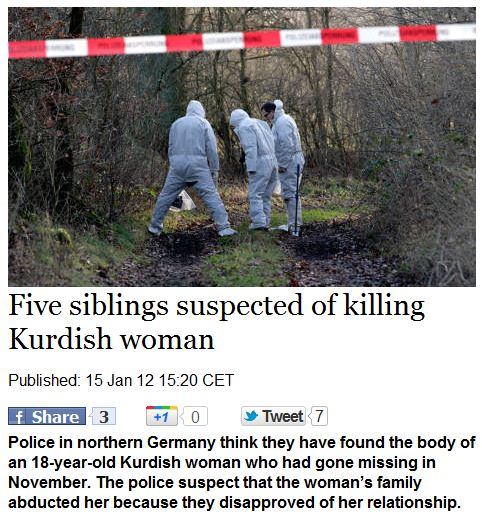 The Local: The police and the prosecutors assume that the body discovered on Friday in Schleswig Holstein is the body of Arzu Ö., a young Kurdish woman who lived in the town of Detmold in North Rhine-Westphalia. 

Prosecutor Michael Kempkes said on Sunday that they were waiting on a DNA match before confirming that it was indeed the missing woman. The police would release no further details due to the ongoing investigation.

The young woman, whose body was found in scrubland by the employee of a nearby golf course, had been the victim of a violent assault. 

Arzu Ö. had been missing since November of last year and police had already suspected that her five siblings forcibly abducted from her boyfriend's apartment and possibly killed her. Her four brothers and a sister have been held in custody for months, but refuse to cooperate with the authorities. 

Her family, who are of the Yazidi faith, disapproved of her relationship with a young apprentice baker because he was from another faith. German police had recently asked authorities in Turkey, where her family originally come from, for assistance in finding her.