Not to be confused with Vienna's……. 'Turkish Delight'. This one still has her scarf but tossed off her clothes instead.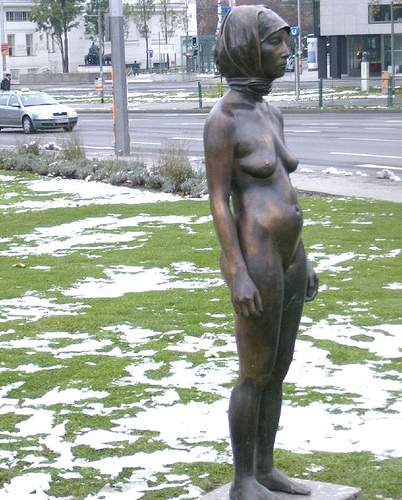 NOTE: Those darn females, always pushing the envelope, wanting to safeguard freedoms hard won!
H/T: Fjordman
Turkey: row over statue of naked woman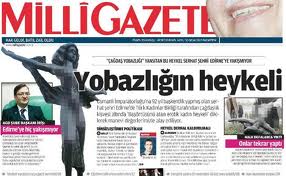 (ANSAmed) – ANKARA, JANAURY 30 – A controversy has erupted in western Turkey over a statue of a naked woman which has been erected by an association appealing to the secular nature of the republic founded by Ataturk. The statue, however, has annoyed many Muslim faithfuls. As reported by the conservative daily newspaper Milli Gazete, and repeated on the website of the lay-sympathizing daily Hurriyet, the case revolves around a statue dedicated to the "Liberated, Modern Woman".
The statue stands in Edirne, a town near the country's borders with Greece and Bulgaria. In the work, a naked female figure with flowing hair and open arms appears to be casting a veil behind her. The statue was erected by the Edirne section of the Union of Turkish Women in 2004 to mark the 80th anniversary of the birth of the Turkish Republic, founded by Kemal Ataturk on the ashes of the Ottoman Empire. The country was formed with a secular Western imprint despite is majority Muslim population. Publishing a photo of the statue on its front page, but with the private parts covered over, the conservative newspaper maintains that the women's association has exploited the statue of what it calls an "erotic woman who is losing her veil" in order to denigrate Turkish moral values in an act of "modern bigotry".