Why we fight. 
The man faces a possible death sentence for telling the truth about the regime, and about Islam. So they want to slowly strangle this guy to death like they do all of their condemned, except those that they stone to death that is. The Iranian mullah regime is evil. KGS
NOTE: The beginning of the real turn-a-round for the Muslim Middle East will be the ending of the mullacracy in Iran, and the restoring of real democracy and liberal, ethical society in that once great country.
ALSO: The multiculti Euro nut-jobs that run our countries can't be counted to help Mohammed, since they're busy persecuting and prosecuting people here in Europe for criticizing Islam as well. It's as if these same European states prosecuted their own for anti-Soviet behavior during the Cold War.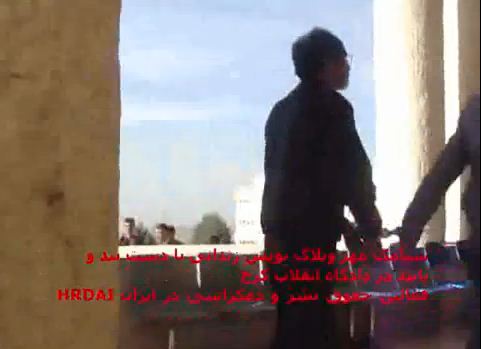 Global voices online:
A 50-year old Iranian blogger, Mohammad Reza Pour Shajari (aka Siamak Mehr), has been charged with "insulting the Prophet of Islam" and "enmity with God" or "waging war against God", charges that could carry the death penalty in Iran. His trial on December 21, 2011 lasted only 15 minutes.
His daughter, Mitra Pour Sharjari, told Deutsche Welle's Farsi service that her father told the judge he would not defend himself, because neither his lawyer, nor jury members, nor the media were there. He said, "One day, like Gaddafi, you will hide in a hole." The judge replied that it makes no difference since, "Now we are here, and you, and people like you, will pay the price."
Siamak Mehr was arrested in September 2010. In his blog, Iran Land's Report, he would criticize the Islamic Republic and Islam with strong words.
In his last post on September 8, 2010 he said he considered Shi'ite clerics a mafia group who had wasted away Iran's national resources since [the Islamic Revolution in] 1979.
H/T: Vlad