One more example of, us accommodating them, in an endless stream of demands that go only one way.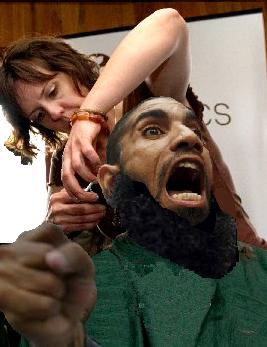 Here's the next-in-line for special privileges.
Halifax salon offers women-only day for Muslims
A downtown Halifax salon has introduced a new service geared toward Muslim women, offering female-only hairstyling days to protect the privacy of women who choose to cover their hair.
Some Muslim women, for modesty purposes, choose to cover their hair in public and only uncover it in the presence of other women, or male relatives.
So every Monday at the CAS Spa and Salon, the men disappear.
"We put down the blinds, we lock the door and put a sign on that it is for women only at those times," said Lesley Williams, the spa's owner.
The salon has been offering the service since December.
"They spend a lot of time after they have their service done in the mirror, feeling their hair, touching it, and commenting on how much they love it," Williams said. "They're really excited to have full service."
Reema Alharthi, a student from Saudi Arabia, said "for any woman, going to the salon is a special thing."
When Alharthi moved to Halifax she tried to get her hair cut at another salon that was not sympathetic to her privacy concerns.
H/T: VLAD