This is wrong on so many levels. The soldier was carrying out his duty under varying degrees of difficulty, it could have easily gone the other way, the man being in fact an explosive handler and other members of his unit dying because of it. While it's indeed sad for both the Afghan man and his family, it's equally sad (if the story is entirely true) to be convicted for acting with the intention of saving others' lives.
Note: It's not an easy call either way.
Pictured: The Territorial Army soldier who could face a murder charge for killing suspected Taliban fighter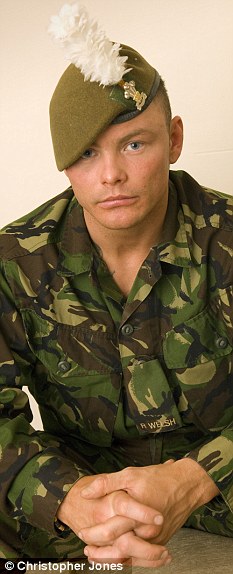 A Territorial Army soldier is under investigation for murder after he shot dead a suspected Taliban bomber.
Fusilier Duane Knott, 26, said he killed the Afghan believing that he was laying explosives intended to kill British troops on patrol.
However, senior officers believe the man may have been an innocent farmer and Fusilier Knott could now become the first British soldier serving in Afghanistan to be charged with murder.

The Ministry of Defence has just completed an 18-month-long inquiry into the incident, which took place in the Nahr-e-Seraj area of central Helmand in the summer of 2010, and has passed its findings to the independent Service Prosecution Authority.
In an interview with The Sunday Telegraph, Fusilier Knott, who could now face a court martial, has defended his actions saying: 'I know for a fact what I did was right.

'I don't have regrets. I'd expect anybody to do the same – especially a soldier.'