Vinny Muhammad reminds me of  Tobias Hübinette, one of the co-founders of Expo, the Swedish anti-racist monitoring group, who once wrote in 1996:
"To feel and even think that the white race is inferior in every conceivable way is natural with regards to its history and current actions. Let the Western countries of the white race perish in blood and suffering. Long live the multicultural, racially mixed and classless ecological society! Long live anarchy!"
So here is the statement by Vinny Muhammad, courtesy of Kitman: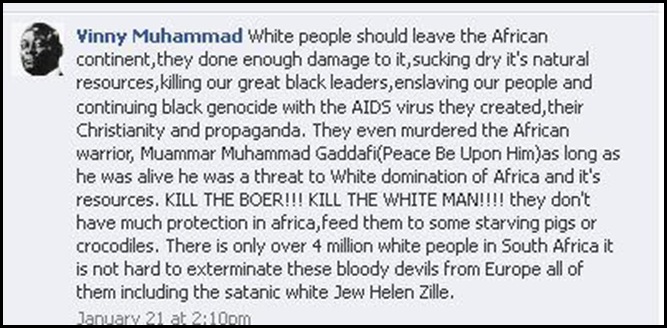 This is the leader of the ANC youth league, and he wrote it while living in London England. This qualifies as hate speech, meaning, it foments violence, something that's definitely not protected by speech right laws. Will Home Office be investigating this?