Yes, Obamabots still at it.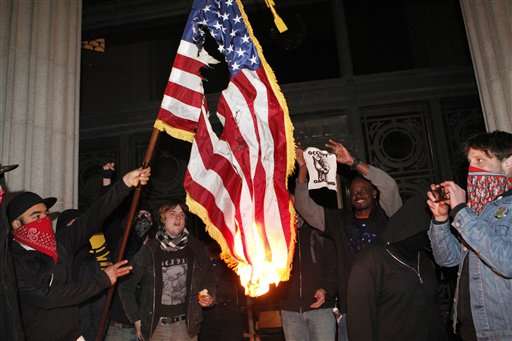 [Occupy Oakland protestors burn an American flag found inside (stolen from the) Oakland City Hall during an Occupy Oakland protest on the steps of City Hall, Saturday, January 28, 2012, in Oakland, Calif.]
300 arrested in daylong Occupy Oakland protests
OAKLAND, Calif. (AP) – About 300 people were arrested Saturday during a chaotic day of Occupy protests that saw demonstrators break into City Hall and burn an American flag, and police fire tear gas and use "flash" grenades to disperse hundreds of people after some in the crowd threw rocks and bottles and tore down fencing outside a convention center.
It was the most turbulent day of protests since November, when Oakland police forcefully dismantled an Occupy encampment. An exasperated Mayor Jean Quan, who faced heavy criticism for the police action last fall, called on the Occupy movement to "stop using Oakland as its playground."
"People in the community and people in the Occupy movement have to stop making excuses for this behavior," she said.
Authorities say protesters clashed with police throughout the day, at times throwing rocks, bottles and other objects at officers. The protests grew as the day wore on with an estimated 2,000 demonstrators in the streets at one point.
Most of the arrests came around 8 p.m., when police took about scores of protesters into custody as they marched through the city's downtown, with some entering a YMCA building, police spokesman Jeff Thomason said.