When even a doctors opinion lands himself in hot water, just because he bucks the perverted public's popular opinion on drugs. Fascinating.
UPDATE: Frank Clough in the comments reports that: Christian GP sacked as Government drugs adviser over views on homosexuality
"While the majority of homosexuals are not involved in paedophilia, it is of grave concern that there is a disproportionately greater number of homosexuals among paedophiles and an overlap between the gay movement and the movement to make paedophilia acceptable," it concluded.

"Despite the impression given by the media, the actual number of homosexuals is quite small. Essentially all surveys show the number of homosexuals to be only 1-3% of the population."
Vilified for telling the truth: The Christian GP whose life was made hell after he questioned the legalise drugs campaign
Doctor was victimised on internet after criticising standpoint championed by Richard Branson this week

He was dismissed from Government advisory role before one meeting
By Frances Hardy
Last updated at 2:10 AM on 28th January 2012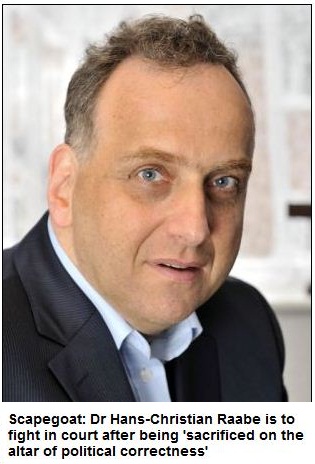 Dr Hans-Christian Raabe is a man of gentle demeanour and firm principle who cares deeply about his patients in the deprived area of Manchester where he works as a GP. Indeed, he chose to serve a community where unemployment is high, drug problems endemic and gang warfare rife because he wanted to make a difference.
'I wanted to care for people in areas of most need, so I opted to work in a disadvantaged community with a high prevalence of social problems,' he says. 'And at the root of many of these problems are drugs.'
'Every day I see the devastation substance abuse causes to individuals, families and communities. I see huge numbers of patients whose lives — whether directly or indirectly — have been ruined by the misuse of drugs.'
[…]
Incredibly, Dr Raabe was also criticised for being a Christian. He was stunned: 'I was called a bigot, scum and a mad ba****d. I was accused of being a waste of space and of having no qualification to talk about substance abuse.
'All I'd done was to offer a day or more of my time every week for three years to help improve the drug problem in the UK, and I was subjected to a vile stream of abuse and defamation. The Home Office caved in to pressure from the politically correct brigade. I believe it was spineless of them.
'When they revoked my appointment I was not given a chance to refute any of the allegations against me. I began to feel as if I was living in a totalitarian regime — in Stalinist Russia or Ahmadinejad's Iran — not in Britain in 2011.'