I reported earlier about a Swedish cartoonist whose cartoon was published in a paper alluding to the ancient African tradition of cannibalism, and the cry of outrage that ensued from it. I maintained then as I do now, the cartoon was based on actual fact, not fiction nor stereotype, the practice still exists (widely enough) to be talked about, drawn about and roundly condemned, and PC politics be damned.
NOTE: VLAD promises me a short video highlighting the factual present day reality of it in Africa. It's to be taken from the 7 part video from Liberia, about the vicious war that consumed the country. Literally.
UPDATE: Here it is: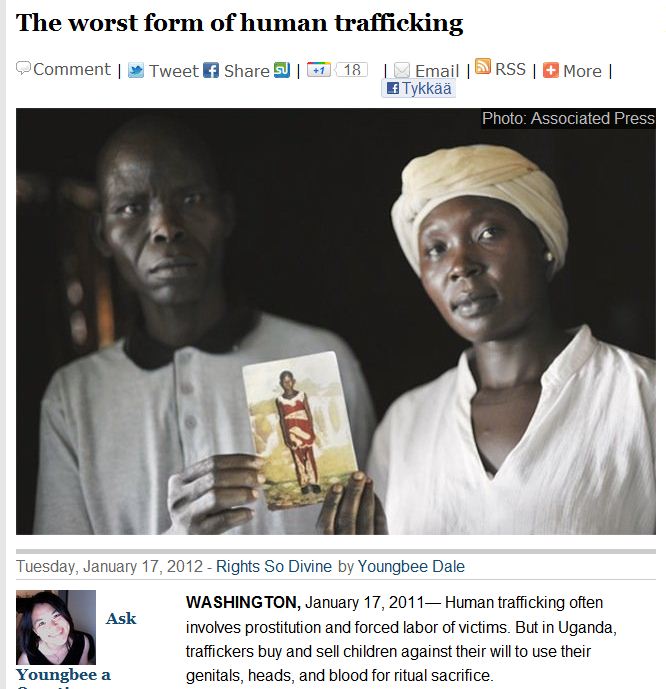 The U.S. Department of States recently reported 9000 children missing in Uganda over the last four years. Traffickers transport children both inside Uganda and to other countries for use in ritual sacrifices.
In 2008, police arrested a witchdoctor couple and a real estate mogul, Godfrey Kajubi, for trafficking 12 year old Joseph for ritual sacrifice. According to the police, Kajubi promised the witchdoctor couple $4021 in exchange for the heads of four children, which he planned to use for ritual.   Kajubi paid $127 for Joseph's head, and told the couple that he would pay the rest of the promised amount when the couple brought him three more human heads.