Attention US voters in Republican primaries/caucuses, Obama/Romney-care is no better than the UK NHS, utopian schemes will deliver utopian results, epic failure. KGS
GPs sent me away 13 times and dismissed me as neurotic. Now I've been told that I am dying of cancer
Ruth McDonagh 'fobbed off' by doctors who told her to 'take warm baths or eat different food'
By ELEANOR HARDING
Last updated at 8:41 AM on 24th January 2012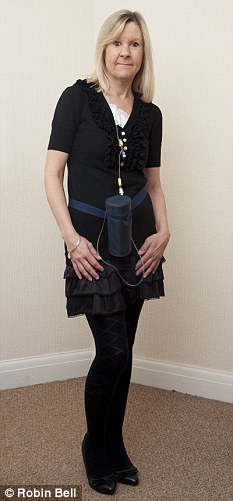 A mother has been given 18 months to live after  doctors failed to diagnose her cancer more than a dozen times.
Ruth McDonagh, 46, pleaded with GPs for two years to test her for the disease but was repeatedly 'fobbed off', and  dismissed as 'neurotic'.
Medical records show she visited GPs 13 times complaining of symptoms before she was finally diagnosed with bowel cancer.
Despite being in excruciating pain, doctors told her simply to take warm baths or eat different foods.
And when she became so ill she couldn't eat, an extraordinary doctor's note shows she was prescribed a herbal remedy, with the GP noting: 'Admits is neurotic.'
By the time she was diagnosed in January last year, doctors found the tumour had progressed to the most severe stage, rendering it virtually impossible to treat. Now 4in long, it has spread to the bottom of her spine and is likely to kill her.