Most Finns, in spite of the intense brainwashing tried by the Left-wing academy, appreciate the history of Israel's successes against such overwhelming odds. They can relate to it, because of Finland's own battles against the much larger Soviet Union during WWII, where the very existence of the Finnish state hung in the balance.
So there is no doubt in my mind that Finland's Air Force Cheif, Lt. Gen. Jarmo Lindberg, is very pleased to visit with his counterparts in Israel. This is an excellent development. KGS
H/T: Daniel B.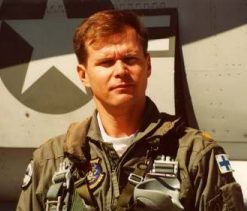 Finnish Air Force chief visits Israel
Finnish Air Force commander visits Israel for the first time, touring the Ramat David airbase
15:10 GMT, January 19, 2012 Lt. Gen. Jarmo Lindberg, commander of the Finnish Air Force, arrived this week with a delegation from his country to visit the Ramat David airbase. This marked the first time a Finnish Air Force chief visited Israel.
Delegation members were given a detailed briefing on the base and its operations. Later, Lt. Gen. Lindberg donned green IAF flight overalls and joined a pilot from the base for a flight in an F-16.
"This visit is very important to us," said Ramat David base commander, Col. Nir. "This is an opportunity to establish cooperation with a friendly country."