This is from November of last year, but it's really really relevant, sorry that the TT missed it when it was published on line, and thanks to the Sheik (pbuh) for forwarding this to me. This is significant that a political party is actively working against Islamization, and in spite of all the negative smearing being done against. They are basically open targets in Swedish society and deserve your support.  KGS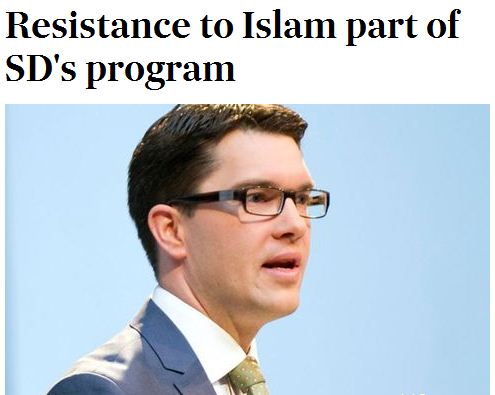 SVD: Sweden Democrats single out Islam as the religion that conflicts most with the Swedish culture. For the first time now writing the party in opposition to its policy program.
Party leader Jimmie Åkesson reiterated  the aim yesterday, to seriously challenge the Social Democrats and Moderates in the government. This will come with a broadening of the policy and a turn toward the center, where the new policy program and the designation social conservatism are important building blocks.
In his speech during the country days Akesson urged the party to be more humble to attract new voters.
That's a big problem for the party that a significant proportion of the electorate that have completely misunderstood our message and are opposed to us, said Akesson.
But while the SD is now taking the step to consolidate its profile against Islam, unlike in the previous principle, the program now identifies Islam as the most problematic religion. The Party therefore calls for a sharp drop in immigration from countries with "strong elements of fundamentalism."
The new principle, the program reads:
"Islam and especially its strong political and fundamentalist branch, according to Sweden-democrats, view the religious beliefs that have proved to be the most difficult to harmoniously co-exist with in Swedish and Western culture."
[…]
-There is a very sharp value conflict between the Islamic cultural sphere and the West, it is a fact, says Mattias Karlsson.