Islam's Latest Contributions to Peace
"Mohammed is God's apostle.  Those who follow him are ruthless
to the unbelievers but merciful to one another"  Quran 48:29
The pictures are from the archives, but the story is the same, Muslims driving out Christians whenever, wherever they can. KGS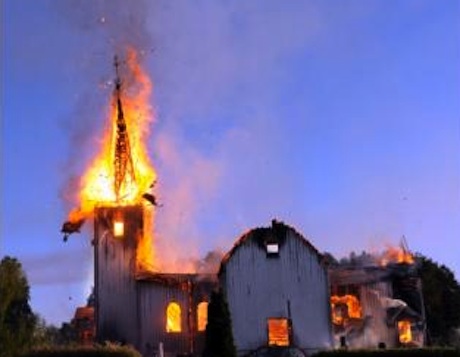 Muslim Extremists Strike at Christians in East African Isles
Saturday January 14, 2012
In Zanzibar, two church buildings razed; in Comoros, a Christian suffers disease, shunning.
By Simba Tian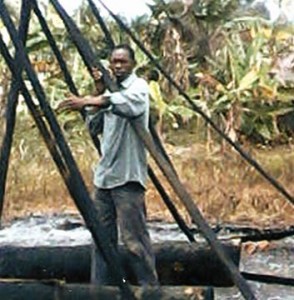 NAIROBI, Kenya – Far from the world media's gaze in remote islands off the eastern coast of Africa, church buildings are razed and Christians are ostracized and imprisoned for their faith – leaving one with a skin disease.
On Tanzania's island of Zanzibar, in one week-long stretch last month Muslim extremists destroyed two church buildings, Christian leaders said. The extremists torched the building of the Pentecostal Evangelical Fellowship of Africa in Mtufani Mwera, about 12 kilometers (seven miles) from Zanzibar town, at 7 p.m. on Dec. 3, said Pastor Julius Makoho. Damages were estimated at 1.5 million Tanzania shillings (US$9,350).
"When I arrived at the scene of incident Sunday morning, I found that the church had been reduced to ashes, with bottles seen close by that could be petrol or paraffin that could have been used for the burning of the church building," Pastor Makoho said.
As the assailants fled, said one church member who requested anonymity, "I heard them shouting, 'We do not want a church in this area!'"
To date no arrests have being made.
Daniel Kwilembe, bishop of the 80-member church, said authorities on the predominantly Muslim archipelago tend to take no action in crimes against Christians. Bishop Fabian Obedi of the Pentecostal Evangelical Church of Zanzibar concurred.
"The Muslims are burning our church buildings quite frequently here in Zanzibar, but the government is not speaking against this kind of destruction of our church premises," Bishop Obedi said.
The previous week in Kianga, about 10 kilometers (six miles) from Zanzibar town, a throng of Islamic extremists demolished Siloam Church's building. Pastor Boniface Kaliabukama said that more than 100 Muslim extremists arrived at the church compound on Nov. 26 chanting "Allahu Akbar [God is greater]."