How Finnish former IAEA deputy director general, Olli Heinonen, would solve the Iranian nuke crisis, The 20% Solution: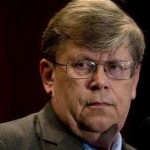 "[…] suspend the production of enriched uranium and convert the existing 3.5 percent and 20 percent enriched uranium stocks, with the assistance of the international community, to fuel for the Tehran Research Reactor, as well as for another modern research reactor that could be provided to Iran."
 To be fair, Olli Heinonen's proposal is a good one, but only if it was pertaining to a rational, reasonable regime, not the one being run by the current Iranian mullacracy. All you need to do is look at N.Korea and see just how well the 'carrot and carrot' method has been working for the US led international group of negotiators thus far.  KGS
The 20 Percent Solution
Iran's provocative uranium-enrichment program is at the center of its confrontation with the West. It's also, potentially, the way out.
"…What has raised the world's suspicions is that Iran continues to produce 20 percent enriched uranium despite the fact that this exceeds its civilian needs …
…Over the last few days, Iran has begun operating two enrichment cascades at Fordow. Furthermore, Iran is completing installation of two additional cascades, with their planned operation already announced. Once the four cascades at Fordow, in addition to the two Natanz ones, are operating, Iran will be able to produce 15 kg of 20 percent enriched UF6 (uranium hexafluoride) per month. This process uses as feed 3.5 percent enriched uranium, which is produced currently at a rate of 140 to 150 kg UF6 per month at Natanz.
This means that Iran's entire uranium-enrichment program is now being devoted to producing 20 percent enriched uranium. At current production rates, Iran can expect to have a stock of 20 percent enriched uranium of around 250 kg UF6 by the end of 2012, as well as more than 4 tons of 3.5 percent enriched UF6…
… If Iran decides to produce weapons-grade uranium from 20 percent enriched uranium, it has already technically undertaken 90 percent of the enrichment effort required. What remains to be done is the feeding of 20 percent uranium through existing additional cascades to achieve weapons-grade enrichment (more than 90 percent uranium). This step is much faster than the earlier ones. Growing the stockpile of 3.5 percent and 20 percent enriched uranium, as Iran is now doing, provides the basic material needed to produce four to five nuclear weapons. With IR-1 centrifuges, it would take half a year to go from 3.5 percent enriched uranium to weapons-grade material for the first nuclear device. More advanced centrifuges would cut the time required in half. If, however, IR-1s are using 20 percent enriched uranium as a feed, 250 kg UF6 with that level of enrichment can be turned to weapons-grade material in a month's time…."
NOTE: Olli Heinonen is promoting this idea solely because there is nothing else to propose outside of the present course of death hold strangulation of Iran's financial system, stuxnet maleworm attacks and covert assassinations of it's scientific community involved with the nuke program. I would also institute a blockading of its petrol imports as well.