What a joke. The country is at the edge of a cliff, and clowns like this are the three frontrunners in New Hampshire? Conservative Republicans better concentrate their vote in the next caucuses or the election is lost….against the weakest and most radical Leftist US president in US history. KGS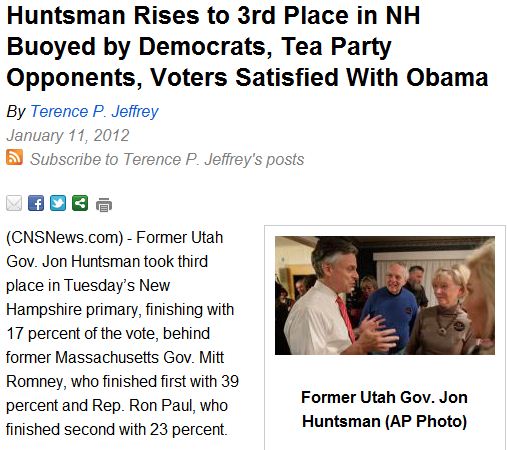 According to the exit poll published by CNN, Huntsman bested the other GOP candidates among the Democrats who voted in the New Hampshire primary, among voters who said they oppose the Tea Party movement, and among voters who said they were satisfied with the presidency of Barack Obama.

Four percent of those who voted in the Republican primary told the exit poll they were Democrats. Among these Democrats, Huntsman took 41 percent, Paul took 24 percent, Romney took 14 percent, Santorum took 6 percent, Gingrich took 4 percent and Perry took 1 percent.

Seventeen percent of New Hampshire Republican primary voters said they oppose the Tea Party movement. Among these, Huntsman won 42 percent, Romney won 26 percent, Paul won 20 percent, and Gingrich and Santorum won 3 percent each.