Four more years of this Marxist whack-job's trampling of the US Constitution, and the US will be irrevocably transformed into a 3rd world backwater state, which is exactly what  this dictator wants. KGS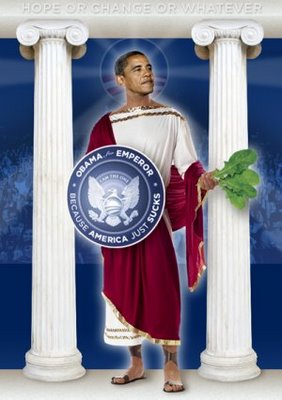 Andrew McCarthy: 
 Obama Has Dissolved the Separation of Powers
. . . In sum, Obama dissolved the separation of powers, the framers' ingenious bulwark against any government branch's seizure of supreme power — and thus the Constitution's bulwark against tyranny. The president claims the power to appoint federal officers without the Senate's constitutionally mandated advice and consent. He does so by claiming unilateral powers to dictate when the Senate is in session, a power the Constitution assigns to Congress, and to decree that an ongoing session is actually a recess. This sheer ukase, he says, triggers the part of the Constitution we're keeping because he likes it — viz., the executive power to fill vacancies without any vetting by the people's representatives.
Mind you, a president is the only government official constitutionally required to swear that he will "preserve, protect and defend" that Constitution. We are talking here not just about Obama's characteristically breathtaking arrogance. These are profound violations of his oath and of our fundamental law. But rest assured he will get away with them. For that, Republicans can thank themselves and their surrender to statism.
Obama is hot to move forward on two fronts. The first is the Consumer Financial Protection Bureau. The CFPB is the monstrous Dodd-Frank's crown jewel. Congress unconstitutionally delegated to it virtually unreviewable power to "dictate credit allocation in the U.S. economy," as C. Boyden Gray put it. Not just bank lending — the law invests dictatorial power in a single CFPB director over thousands of American businesses. The CFPB is not just part of Obama's design to splay the government's tentacles throughout the private economy; it is also key to his reelection narrative: Leviathan, no longer shyly creeping but heroically swashbuckling through predatory capitalists to rescue the noble "99 percent."
By law, however, the CFPB cannot operate until its director has been confirmed. Before the midterms, Senate Republicans lacked the votes necessary to stop the CFPB from being enacted, but they now have the numbers needed to block confirmations — or, in this instance, to extract concessions in exchange for confirmations. In our constitutional republic, this is what is known as politics. That is not a dirty word. Indeed, it is the very horse-trading that leftists and their media cheerleaders indignantly demand to be afforded even when they don't have the numbers to force their opposition's hand.
Via: WM at Weasel Zippers