I've always admired the former Czech president and dissident, Vlaclav Havel. It saddens me that he's gone, as well as for the Czech republic he cared so much for, that insists (after all its been through) to place its people once again under the yoke of another tyrannical regime, called the EU.
Rest in peace Vlaclav Havel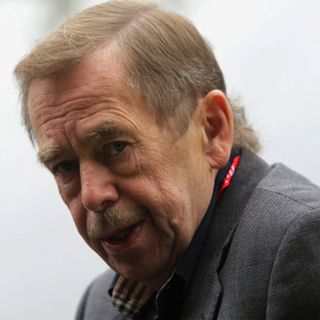 For Jews, Vaclav Havel wasn't just a friend but a champion of freedom
WASHINGTON (JTA) — Vaclav Havel was a friend of the Jews and of Israel, but prominent Jews who mourned his passing this week said the Czech leader's greatest legacy was his universal message of freedom.
"Vaclav Havel was one of the few islands of intellectual freedom in the sea of totalitarian rule," Natan Sharansky told JTA, speaking of the late 1960s and the 1970s, when both he and Havel were struggling against communist rule — Havel in the former Czechoslovakia and Sharansky in the former Soviet Union.
Havel, a dissident playwright and human rights champion, helped lead Prague's 1989 Velvet Revolution and was a hero in the Cold War struggle for democracy in Soviet-dominated Eastern Europe. In 1977 he was a co-author of the human rights manifesto Charter 77, which became the catalyst for the Czech dissident cause.
Just weeks after the collapse of communism, Havel was elected president of Czechoslovakia, on Dec. 29, 1989.