How reassuring is it to meet with someone who's responsible for mass murder/genocide?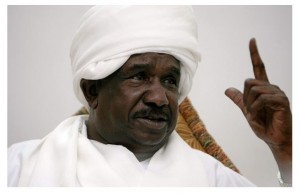 Sudanese Gen. Mohammad Ahmed Mustafa al-Dabi 'dabidoo': I know all about mass murdering, so I can relate to Assad better than you.
Syria rebels 'hold fire,' want to meet Arab League monitors
By REUTERS
12/30/2011 12:48
Free Syria Army ordered to halt all military operations before a meeting with Arab League delegates monitoring situation in country; Syrian ally Russia says situation on the ground "reassuring."
BEIRUT- The anti-government Free Syrian Army has been ordered to stop offensive operations pending a meeting with Arab League delegates monitoring President Bashar Assad's compliance with a peace plan, the rebels' commander said on Friday.
Colonel Riad Asaad said his forces had so far been unable to talk to the monitors, in the first week of their month-long mission, and he was still trying to contact them urgently.