Way to go guys.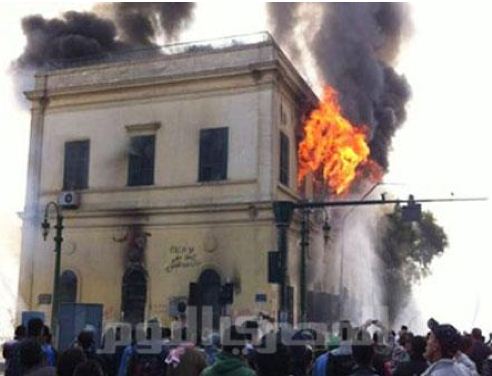 Amid army crackdown, Egypt's richest library set on fire
A fire that engulfed the building of the historic Egyptian Scientific Institute on Saturday morning has been extinguished. The extent of the damage has not yet been determined.
The fire started on the lower floors of the building, which is on Qasr al-Aini Street in central Cairo, but later reached the higher floors. The firemen, who arrived very late at the site, could not initially control the fire.
State news agency MENA said that firemen eventually managed to control it, but state TV reported that the fire damaged the whole building and all of its collections.
The building is adjacent to the Shura Council building, and both MENA and state TV accused protesters of throwing a Molotov cocktail at the institute.
Eyewitnesses were reported to have seen protesters throwing a Molotov cocktail at stone-throwing soldiers at the Shura Council building, but the projectile missed the intended target and instead landed in the Egyptian Scientific Institute.