It's never considered an offense when they do it.
Al-Azhars' al-Qaradawi would agree.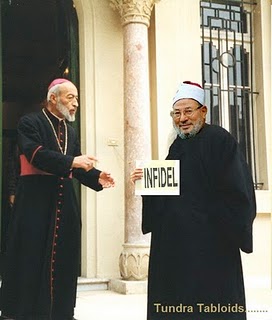 The raisin bump on this mustard's forehead tells you the fervent dedication to slamming his head into the carpet. KGS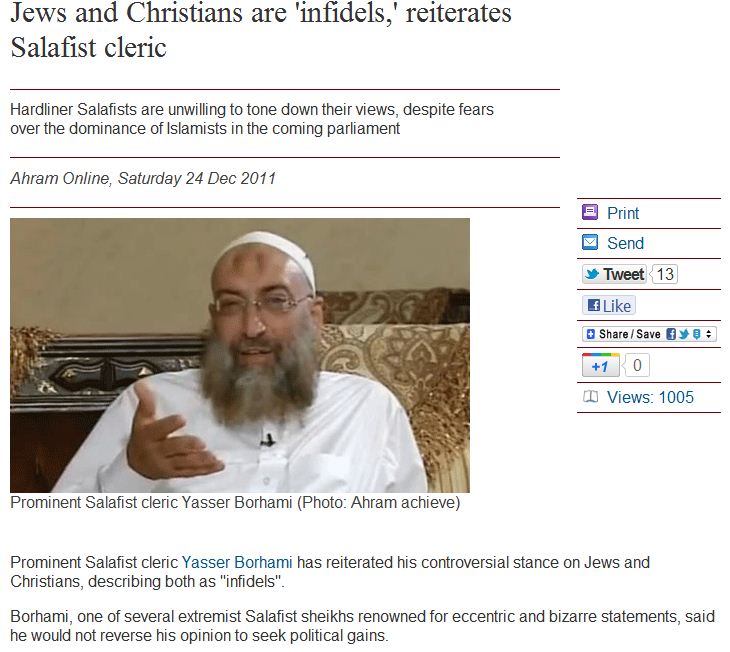 "I hold on to my stance that Jews and Christians are infidels, but they do have rights that Allah has given them," he stated during a press conference in Dakahliah, north east of Cairo.
Borhami, the deputy leader of the Salafist call (Al-Dawaa Al-Salafiyya), was instrumental in forming Al-Nour Party in 2011, commonly viewed today as Al-Daawa's political arm.
The Nour Party has been thus far the second biggest winner in the ongoing parliamentary elections, behind the Muslim Brotherhood's Freedom and Justice Party (FJP).
After the Nour Party's initial triumph in the ballot, liberals and secularists started to voice fears over the Salafist impact on the political landscape, economy and social freedoms.
Al-Nour Party President Emad El-Din Abdel Gafour and spokesperson Nader Bakar tried to reassure critics through relatively moderate statements, unlike Borhami.
"We would never give up our thoughts for politics," Borhami added.
NOTE: Those "rights" he refers to, are what is allowed in the sharia, the right to feel subdued as you pay the jizya (poll tax for sub-class people).
Via: Weasel Zippers.