Elisabeth is to appear before a higher court tomorrow to learn whether or not the ruling by a lower court, in which she was sentenced to pay a fine of €480 for offending Muslims in a private course (no Muslims were present to hear to hear the truth) will be upheld. If she refuses to pay she will sit in jail for a two month stint, as a political prisoner. The Tundra Tabloids will be live blogging her case here tomorrow (20.12.2011), and at Elisabeth's own site Save Free Speech as well. We here at the TT wish her well and God's speed. KGS
NOTE: Ned May adds: A team from the European branch of the International Civil Liberties Alliance will be live-blogging Elisabeth's trial tomorrow. Her case will be heard very early in the morning American time — at about 3am to 5am EST — but if you are up that early (or late), check in with Save Free Speech or Tundra Tabloids for real-time reports in English.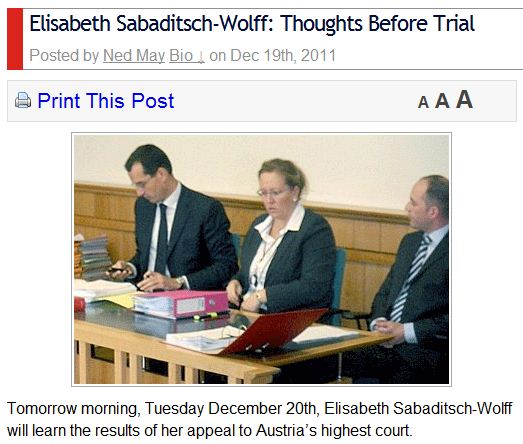 As described in this space a few weeks ago (See Part 1, Part 2 and Part 3), Elisabeth was charged last year with "denigration of religious beliefs of a legally recognized religion" for asserting that "Mohammed had a thing for little girls." In February of this year she was convicted, and will have to pay a fine of up to €480. If she refuses to pay the fine, she may spend a maximum of two months in jail.
The court did not contest the truth of Mohammed's marriage to a six-year-old, nor the fact that the Prophet of Islam had consummated the marriage when his bride was nine. The judge could hardly disagree with these facts, since they are confirmed by authoritative scholars in all branches of Islam.
No, Elisabeth was convicted despite the truth of what she said. She was found guilty because her words were deemed offensive to Muslims. As we all know by now, the truth is no defense when Muslims are offended. Anyone who offends a Muslim in Modern Multicultural Austria now risks criminal prosecution.
On Tuesday she will learn whether the judge in the higher court is a man of integrity. Common sense would tell him that the case against Elisabeth was a farrago of justice, and should be thrown out on the merits. But common sense is sorely lacking these days in Europe.
Elisabeth has been pondering the legal nightmare she has been trapped in for the last two years, and sends the following meditation on the day before she learns the verdict in her appeal:
Thoughts Before Trial