WHEN ANTI-ISLAMIC ATTACKS DON'T EXIST
RESORT TO DOING IT YOURSELF!
Oh no Muslim would do that
it's those evil infidels!
But wait, the
cat meat sheik
believes that Islam allows you to blame the infidel for all kinds of mischief against the Muslims, as long as you don't get caught! Remember remove all video cameras first!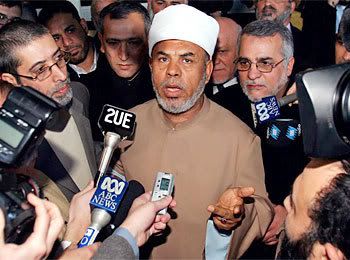 Cat Meat Sheik al Hilali: when damaging a mosque,
remember to first turn off all the cameras
Now to the main story via the ever watchful Sheik Yer'Mami:
Nashville Muslims fake "hate crime" at mosque, fail to get their story straight…
"Muslims Go Home" and a Crusade-style cross were scrawled across the front of Al-Farooq Islamic Center on Nolensville Road, says Salaad Nur, a spokesman. (…)
The Sheik:
"That right there is suggestive of fakery. The Crusades, as we know, are very much on the minds of Muslims, but it is highly doubtful that the racist Tennessee rednecks (so beloved of mainstream media myth) who are supposed to have done this would know or care what a "Crusade-style cross" looks like. The cross that was painted on the mosque doesn't look like the crosses you see in the local churches in Nashville."